Director
Gary Dauberman
(Feature film debut)
Stars
Madison Iseman, Mckenna Grace, Katie Sarife, Michael Cimino, Vera Farmiga and Patrick Wilson
If like me, you've seen every film that forms the Conjuring Universe to date, then you may wonder where the timeline for this seventh instalment fits. Well, in quite unique style, this sequel to 2014s ANNABELLE and 2017s ANNABELLE: CREATION is set between the opening and main plot of the very first Conjuring film! As ANNABELLE COMES HOME commences, the titular haunted porcelain doll is handed over to paranormal investigating pair Ed and Lorraine Warren (Patrick Wilson and Vera Farmiga) where she is safely stored inside a glass box that's situated in their artefacts room. A year later, the Warren's begin working on a new case and employ babysitter Mary Ellen (Madison Isemanr) to mind their young daughter, Jane (Mckenna Grace) while away overnight. When Mary Ellen's curious friend, Daniela (Katie Sarife) pays a surprise visit, she unwittingly releases an evil spirit via Annabelle after foolishly ignoring the prescribed warning on the glass box that reads 'Positively, do not open'.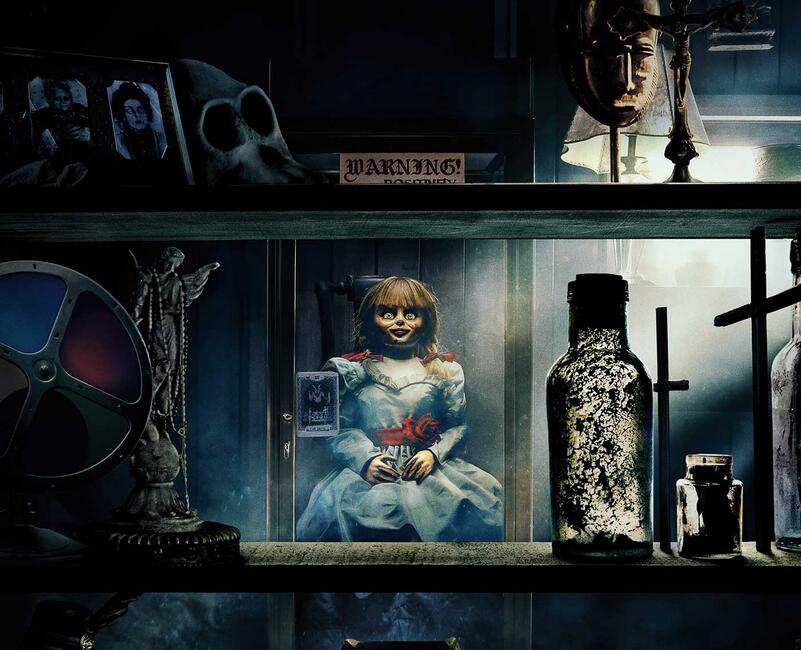 During the earlier minutes of this sequel, it became clear to me that I had been coerced into a game, of sorts. A game in which I had little control over, but was nonetheless certainly a willing participant. As the writer of all three Annabelle films and one of the three writers behind IT, first-time director Gary Dauberman demonstrates that he's no novice to conjuring up the creepy and quite capably luring his audience. For a good chunk of its duration, ANNABELLE COMES HOME is simultaneously fun and suspenseful to watch, courtesy of its horror scenes that I can only describe as being intentionally teasing by way of combining some faux scares to go with its genuine jumps. Later in the film, the horror scenes do gravitate to being more formulaic of the genre, but by then there have been a couple of key developments embedded into the film's story that can compensate. Specifically, but without saying too much, the motivation propelling Daniela's curiosity is penned with real substance. Also, Annabelle might not be the single source of scares in her sequel! With much of the film playing out in real-time, ANNABELLE COMES HOME is fairly reliant on the leading performances of its three young females, whom each hold their own very solidly indeed.

3 stars
Viewer Discretion
M (Horror themes, violence and coarse language)
Trailer
ANNABELLE COMES HOME

Moviedoc thanks Roadshow Films for the invite to the screening of this film.
ANNABELLE COMES HOME is released nationally in Australia from June 27th, 2019.
Review by Leigh for Moviedoc
Follow on Twitter – Moviedoc / LIKE on Facebook – @moviedoc13
©