Directors / Charlie Bean, Paul Fisher and Bob Logan (Feature Film Debuts)
Stars/ The voices of Jackie Chan, Dave Franco, Justin Theroux, Michael Peña, Kumail Nanjiani, Olivia Munn, Abbi Jacobson, Zach Woods and Fred Armisen
The Lego film world raises its third spawn with the release of THE LEGO NINJAGO MOVIE, which is the first theatrical Lego movie to be based on an original Lego property.
Diverting from the original TV series, the plot follows Lloyd Garmadon (voiced by Dave Franco), who by day is struggling with the daily pressures of high school and by night is secretly protecting Ninjago with five other classmates. Each of these teenagers, with the exception of Lloyd, possesses a special power. Kai (voiced by Michael Peña) is the red ninja of fire, his sister Nya (voiced by Abbi Jacobson) is fittingly the ninja of water and her love interest Jay (voiced by THE BIG SICK star Kumail Nanjiani) the ninja of lightning. Then there's also the ninja of ice, Zane (voice of Zach Woods) and the ninja of Earth, Cole (voiced by Fred Armisen). Lloyd is understandably frustrated that he is seemingly the only participant of his group not gifted with his own special power. To make matters worse, his distant father, Lord Garmadon (voiced by Justin Theroux) has plans to take over and rule the city of Ninjago.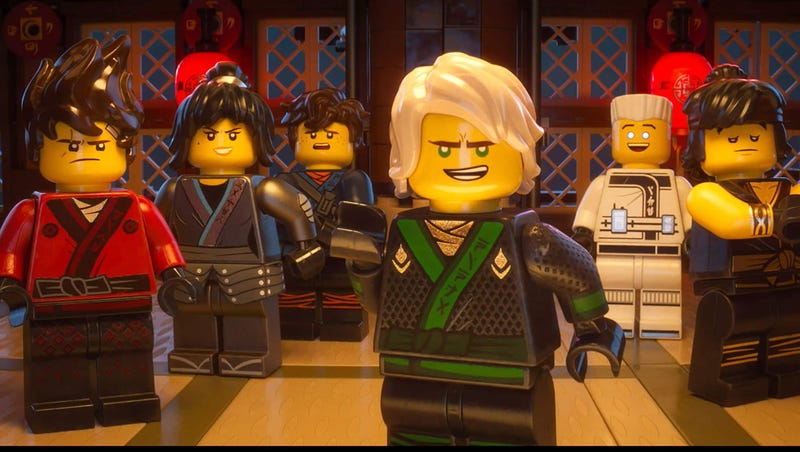 The second spin-off in the growing Lego film series features many of the same materials that were used in constructing exceptionally solid entertainment in previous Lego worlds, yet have produced a feebler finished product in THE LEGO NINJAGO MOVIE.
In total, nine story and screenplay writers (some of which are from the previous Lego movies) have gathered to create THE LEGO NINJAGO MOVIE, which is the highest number of contributors in this filmmaking department in any Lego movie so far. Somehow, their combined efforts aren't enough to make what is a distinctly familiar plot on paper, to be written with a maintained level of creativity that both previous Lego films were so abundant with. For instance, this animated family film is equipped with the same variety of comedy that worked a treat previously, albeit at a much less frequent occurrence in Ninjago. Instead, the less than exciting computer generated action sequences are licensed to fulfil greater screen time, which result in a rapidly tiring ability for THE LEGO NINJAGO MOVIE to entertain an all-ages crowd. There are moments throughout this animated action-comedy where it displays the wittiness in writing, storytelling and characterisation we've now learnt to expect from a Lego movie. Though this time around, those moments are fleeting only.

2 ½ stars
Viewer Discretion/ PG (mild animated violence)
Trailer / THE LEGO NINJAGO MOVIE
Moviedoc thanks Roadshow Films and Village Cinemas, Jam Factory for the invite to this film screening.
Review by Moviedoc / "LIKE" on Facebook – Moviedoc
©